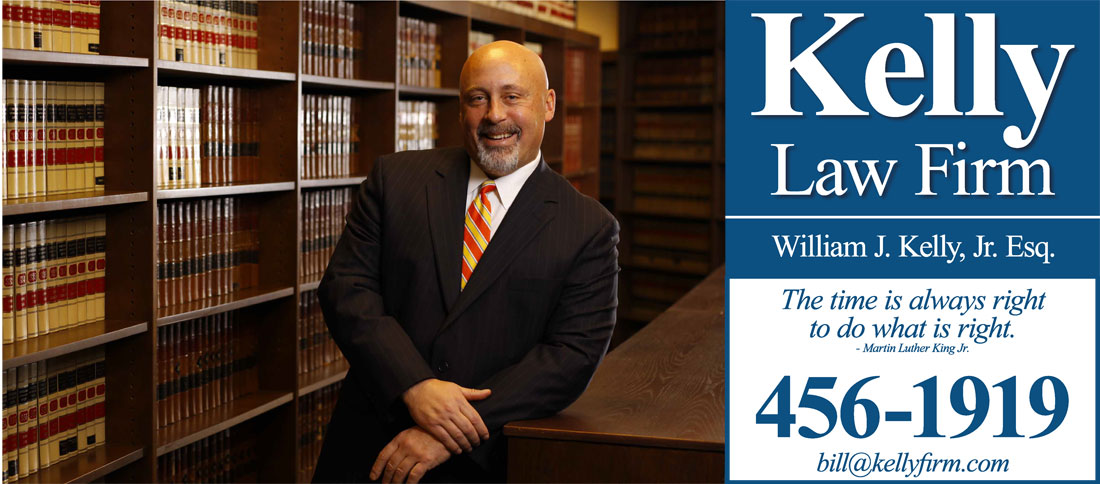 Listed below are actual testimonials by my clients as well as peers that appear on the Martindale-Hubbell website.
Posted on: 01/29/19


Attorney Kelly is responsive and to the point. Great grasp of business common sense and acumen. Commanding positive presence is reassuring to his clients and a cause of consternation for others.

Posted on: 01/25/19


I highly recommend William Kelly, He was a godsend after our sister was stuck by a car this summer. He guided us through various legal documents and procedures to protect her as she recuperated for almost 4 months. He was also successful in obtaining her monetary settlement to assist her with continued medical expenses. Thank you Attorney Kelly.

Posted on: 01/22/19


After hearing that my sister had been hit by a car, Bill Kelly reached out to me as a friend. He felt that he could guide me and my family to help our sister who was in critical condition in the ICU. Because of the magnitude of our sister's injuries, our family decided that we should hire Attorney Kelly. Because of Attorney Kelly's knowledge and expertise, our sister received a substantial monetary settlement rather than no settlement. What an incredible gift for our sister!

Posted on July 21, 2016


I can't imagine there is a better attorney than Bill Kelly. He is the BEST! No matter how well educated a person is, you enter his office feeling vulnerable but leave feeling well informed, prepared and protected. Bill is a brilliant attorney, knowledgeable about every aspect of the law that relates to your situation. He keeps you focused on the facts and what you need to DO, a great coach. I wouldn't want to encounter him on an opposing team. I have appreciated his advice and representation!

Posted on January 16, 2014


I HIGHLY recommend Atty. Bill Kelly. He represented our family in the most professional and respectful manner. He conducts himself with the highest integrity. We were kept abreast of all facets of the law suit over the four year period and were advised professionally of all possible outcomes. Atty. Kelly is a family man and treats you with the same respect and dignity he would hope you would treat his family. We are most appreciative of Atty. Kelly's time and outcome of the law suit.

Posted on January 16, 2014


Attorney Kelly took a genuine interest in my case. He didn't just go through the motions. He was competitive and aggressive when situations required it. He was also patient when required and always quick with good council. ****I would strongly recommend him. I need a fighter and winner working for me.

Posted on July 28, 2013


Attorney Kelly pursued this case with knowledge, constant communication, persistence and his expertise in his field. He started on this case October 2011 and finished June 2013. His honesty, concern for his client, and overall coverage of this case was finished with excellence.

Posted on May 16, 2013


William J. Kelly, Jr. AKA "Bill" is a very knowledgeable Attorney. We live in FL, worked out of TX, and had a case in Erie, PA. For 2.5 years he has kept us updated on what is going on and what will happen next. His knowledge of Law is second to none. He was recommended by another Attorney who spoke very highly of him. We would recommend him in any case. In the beginning he asked us "How can I help you?"; then set out to make sure we got the Best. As far as we are concerned he is the Best.

Posted on January 20, 2013


We found Atty. Kelly to be very professional, knowledgeable &above all, and probably one of the most important things to us, he was very honest. By honest, I mean that he was kind & respectful, but at the same time he told us the bad & the good playing both sides of the case. This allowed us to be completely prepared for anything that may come up and also how to handle it, it also gave us the opportunity to decide how far we would like to pursue our case based on all the facts. He is a superb atty.

Posted on October 21, 2012


Mr. Kelly was very personal but very professional. Considered all of the players in our case fairly and with skill. advised us what all the factors were at all steps in our case. Our only other use of consul was for wills and we are beyond expectations the great handling of our case. At no time did we feel left out, uninformed or that we were "forgotten";. Mr. kelly really knows all the angles and points of the law and the handling of the situations of our type of case. He shall be recommended by us.

Posted on August 22, 2012


Mr. Kelly is an honest and extremely diligent attorney. He demonstrates exceptional ability in his profession, as well as exceptional character as a person. He has my highest regard and recommendation.

Posted on May 18, 2012


I was recommended by a friend to have William as our attorney. He was very personable and caring, and had my daughters best interest at heart. He has continued to keep in touch and lend an ear to give me advice even after 9 years of passed time since we used his services. I would definitely recommend his service to anyone!

Posted on May 1, 2012


Atty. Kelly has represented me on a number of issues, both personally and professionally. He is an extremely intelligent individual who has a vast array of knowledge on multiple levels and provides 5 star counsel in a timely manner. His ability to take over and quarterback difficult situations is invaluable - He is my "Go To Guy" prior to making important decisions for my family and business.

Posted on April 22, 2012


We needed a bulldog in very sensitive circumstances, and got a pit bull. Mr. Kelly was efficient, competent and professional throughout our entire case. I would recommend William J. Kelly to anyone needing legal services within his scope. He's not only a committed professional, but also exemplifies genuine character. After several years from our closed case, his office returned a copy of a very dear family photo. If you want a lawyer with integrity, call Mr. Kelly.

Posted on April 21, 2012


Attorney Kelly provided excellent legal advice at a very difficult time in my life. He responded promptly and professionally at all times. I found him to be honest and fair in his service and fees. I would and have recommended him very highly to other clients.

Posted on April 20, 2012


My partner and I have been extremely pleased with Mr. Kelly's services. He has provided services in the way of will and estate planning as well as the second parent adoption of our two children. He is very professional, diligent, proficient, and accommodating. I would recommend Mr. Kelly to anyone seeking counsel with complete confidence.

Posted on April 20, 2012


Mr. Kelly is an excellent attorney. Responds to all matters promptly and has done outstanding work for me personally as well as my company and several of my business associates. I would recommend his services without reservation.

Posted on April 20, 2012


Bill is a very professional and caring lawyer. He will give you the straight truth about what you are, or may be, up against. He worked very hard for us against a seemingly impossible situation, with the best possible outcome. We would go to him again and recommend him to anyone.

Posted on April 20, 2012


Our go to person!

Posted on April 20, 2012


Attorney Kelly is very conscientious and a strong advocate for his clients. You want him in your corner in legal matters!!

Posted on April 20, 2012


BILL REPRESENTED ME IN A RATHER UGLY DIVORCE THAT INVOLVED PERSONAL ASSETS AS WELL AS A BUSINESS. THE CASE ENDED UP IN COURT WITH EXPERT WITNESSES AND WAS VERY LENGTHY.BILL DID AN OUTSTANDING JOB AND I WAS VERY SATISFIED WITH THE OUTCOME AS WELL AS THE JOB HE DID. I WOULD HIGHLY RECOMMEND BILL KELLY FOR ANY LEGAL COUNCIL NEEDS.

Posted on April 20, 2012


Mr. Kelly is highly professional and has very strong ethics. He has excellent listening skills and was determined to right a wrong, which he succeeded in doing. I would highly recommend him to anyone who needs an intelligent, compassionate and a truly excellent lawyer on their side.

Posted on April 20, 2012


I have nothing but good things to say about my family's experience with Attorney Kelly. He was trustworthy, honest, and no-nonsense. In retrospect, I wouldn't have wanted to wade through the legal aspects of such a traumatic experience without his counsel. I wouldn't hesitate to hire Attorney Kelly in the future and highly recommend his services to anyone in need of legal counsel.

Posted on April 19, 2012


Very honest and open. TRUSTWORTHY!!!!!!!!

Posted on April 19, 2012


Atty. William Kelly is very passionate about his profession - never giving less than 100% for his clients. You want him in your corner!! He defended us in a "bet the farm" suit that could have gone either way. His tenacity along with his ability to react quickly and decisively to situations, combined with is overall legal knowledge, yielded us a very favorable result. Glad we chose him for the suit - good person - good Atty.

Posted on April 19, 2012


Very professional responsive and a bulldog to get things done.
Peer Comments
Posted on May 14, 2012


Mr. Kelly is an outstanding lawyer.

Posted on May 11, 2012


Great lawyer.

Posted on May 11, 2012


Mr. Kelly is an excellent attorney. He is a very skilled and loyally competent trial lawyer.

Posted on May 3, 2012


Bill is a top notch lawyer, skilled advocate and well-respected member of the bar. My endorsement of him is unqualified.

Posted on May 3, 2012


Bill is an excellent attorney. He recently tried a rape case and achieved an acquittal verdict. I frequently refer cases in which I have a conflict to him as do other members of my firm. I believe that he should have an AV rating.

Posted on April 25, 2012


Bill is an extremely competent and conscientious attorney, who represents his clients with zeal and diligence. I have always found him to be well prepared in any matter in which he is involved, and have found him to be honorable and trustworthy.

Posted on April 25, 2012


I have been involved in numerous civil litigation matters and trials with and against Atty William Kelly, Jr. and I have found him to be extremely knowledgeable of all aspects of the civil matter and to possess the utmost in ethical standards. It is my sincere pleasure and honor to be have been able to participate in this evaluation.

Posted on April 25, 2012


Very experienced trial attorney.